Hi to one and all…how did we get to Wednesday all ready and it is the first of August!!!  Well today we are going to slow it down a little here at The Cottage Market.  
is still going on…so take a peek and pop one of your projects there so we can see how fabulous we know you are!
I will be pinning…tweeting and facebooking all week till the features on Monday…on all 5 blogs! 
Today I have a little printable for you.  As the Summer is slowly fading I hope you can still steal a few moments in time to read…so for a little incentive…here are some bookmarks that I hope you enjoy!  One for your novel and 2 for your cookbooks.  Hope you get to use them all.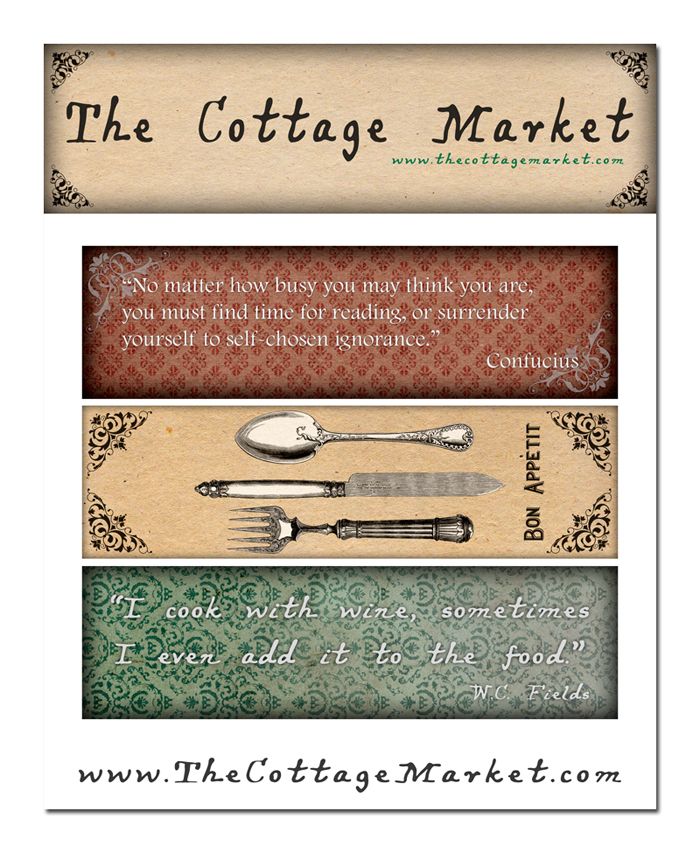 *Image Sheet*
Download



*

Please note: Be Sure to download Original size

*




Once you have click on the links follow these steps:


1. Hover over the image with your cursor
2. A tool bar will appear, the first option to choose is FILE
3. Hover over File and Click Download Original file and your done! 🙂
Speaking of Cookbooks…I have to recommend one…I have had it
for about 8 months now and all I can tell you is if you LOVE vegetables and exciting dishes created with them…
by:   Yotam Ottolenghi
is a must have on your shelves!  It is an amazing treasure and that is coming from me first hand and the critics agree!!!
Bon Appetit my friends and HAPPY READING!!!
Take care and don't forget the party is still going on above and 
FRIDAY Junkin Joe will be having another party so we really hope to see you there!  We will be featuring some of your amazing finds and creations…showing a few Junkin Joe Finds and of course the PARTY!!!