Hi there once again…you are seeing double again this Monday…I am back with an
In a Cinch
Craft Project now!  Please check out today's first post for fresh In a Cinch
Tropical
Salsa
and
Fresh
Chips
!  In the tradition of this months theme of Easy Peasy…here is a quick and fun DIY for a little bunting that you can use just about anywhere!  Hope you enjoy!
Check out the Linky reminder below!!!
Let's start with some supplies!
You will need some doilies (you will be punching or cutting them into small circles) some twine/ribbon or bakers twine…punches or scissors…some glue and some flowers or embellishments if you would like.  If you don't have some pretty paper…we have a free download below for your 1 inch circles!
Simply Punch 1 1/2 inch circles from your paper doilies…I used the small ones and I was able to get 3 from each!  Then punch out some inch rounds from your scrapping paper…wrapping paper or the circles that we provided below…just print them out…cut or punch and you are ready to go!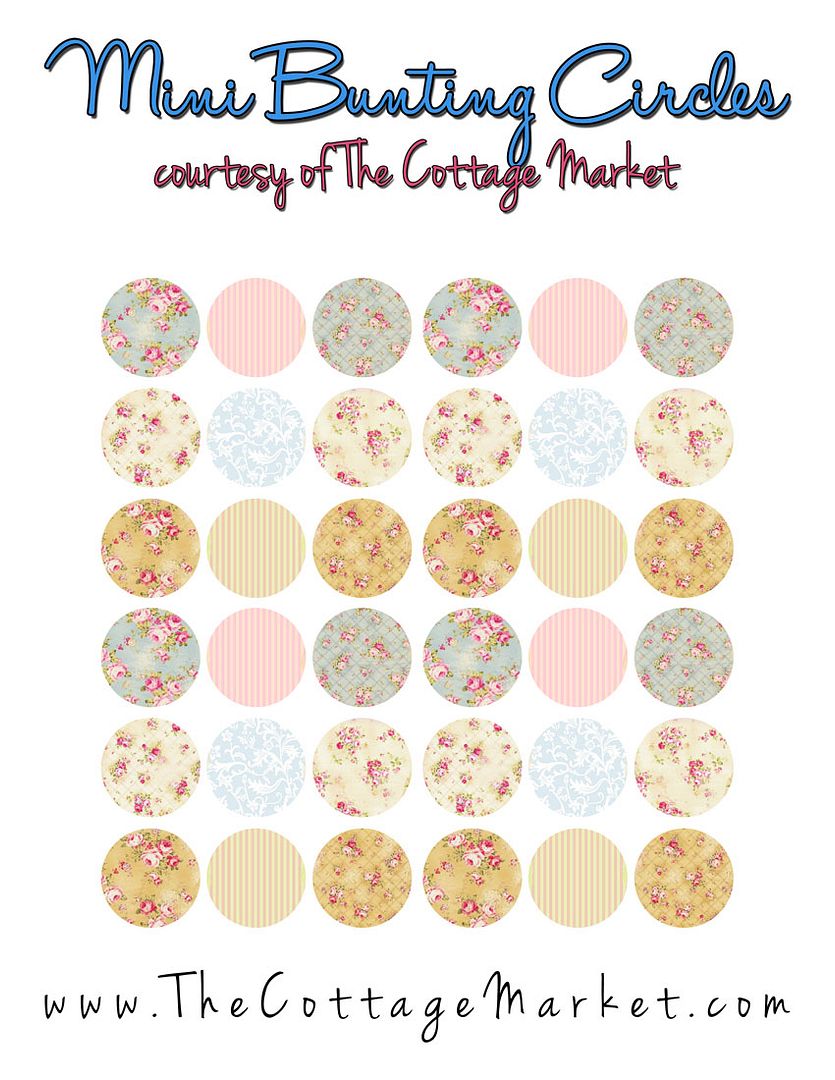 *Sheet*
Download



*

Please note: Be Sure to download Original size

*




Once you have click on the links follow these steps:


1. Hover over the image with your cursor
2. A tool bar will appear, the first option to choose is FILE
3. Hover over File and Click Download Original file and your done! 🙂
Now simply use your favorite glue (I used Modge Podge) and attach the decorative paper to the center of the punch doily!
An easy clean fold in half for each little pretty…
it is time to string…I used a double thread…that way you can tie your bunting onto whatever…but you can use a single thread…depends on what you are using it for!  Just place your folded round over the twine…dab with glue…press…hold and repeat…
I could not resist…I just had to put little forget-me-nots in between …it looks great plain or with embellishments…you are in control!
Like just about ALL of my projects…there is a ton of lead way for you to use your own creativity…I am just providing a starting point and then you soar off into your own directions… the possibilities are endless with these little pretties…different shapes…sizes…colors…textures and so on and so on…
I love putting them on frames…making cake buntings…on the top of a mirror…a little shelf…cut smaller and add to packages…cards…like I said…endless!  My hope is that you have tons of fun and create!!!
Tomorrow is our BIG Linky Party…Please join me and my friends…
Remember to join in on the LINKY fun…any quick and easy project or recipe you have would be fabulous…you know you have them…come on over tomorrow and share!  5 for 1 — once you load your link here it will automatically appear at all of my friends blogs above!  It is going to be tons of fun and hope to see you there!!!!
Hope to see YOU at the Party!!!!