Hi there everyone…a very good day to you all!
 It is once again time for 
For those of you that are new here, every Thursday a random drawing is done…each comment left during the week is assigned a number and then the random chooser pics a number and a winner! So leave those comments throughout the week : ) It is a little token from me to my blogger friends and readers! Just a little thank you that I hope everyone enjoys!
  I am adding a NEW feature to this weekly happening.  We will still have our little give aways…but I just don't like the fact that everyone can't win…so I am adding a fun free digital download to the mix on Thursdays so everyone gets a little something!  Hope you like that idea.
So let's start with the gift for all and then right below that we will find out about this weeks winner of the pretty cottage trims!
I love this collection of vintage Easter digital art!
It's so much fun and I adore the border…Here's hoping that you love it too and have tons of fun creating with it!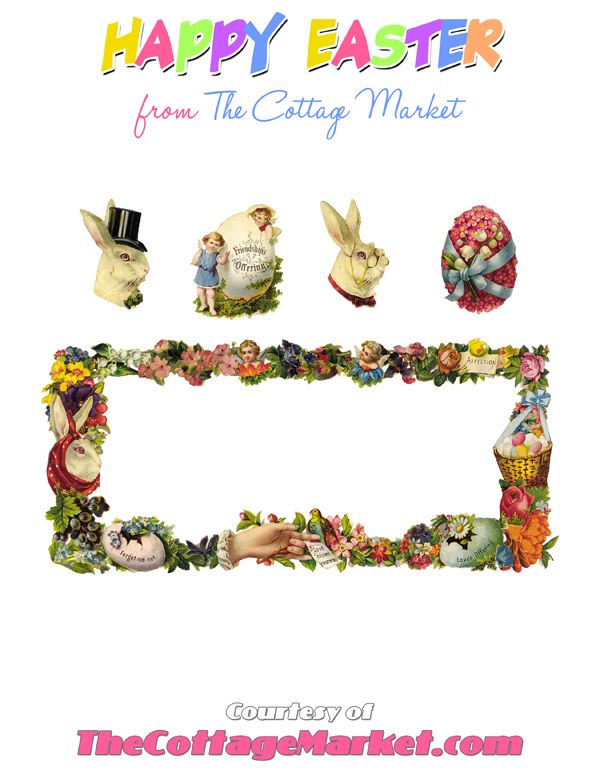 *Image Sheet*
Download



*

Please note: Be Sure to download Original size

*




Once you have click on the links follow these steps:


1. Hover over the image with your cursor
2. A tool bar will appear, the first option to choose is FILE
3. Hover over File and Click Download Original file and your done! 🙂
Do you love this little collection…I sure hope so!  Feel free to use it on everything!!! 
 Now…who is the winner of the pretty in pink trim set???
She has such a cute blog that I am sure you will enjoy! Congrats…Luci…please send me your full mailing address to
TheCottageMarket@gmail.com
Next Weeks Give Away from The Cottage Market will be…yep…pretty in pink one more time…
this will be going to next weeks winner!
  See you tomorrow my friends and so will…