Do you love upcycled projects, home decor diy's, fabulous craft projects, refurbished and painted furniture tutorials, vintage finds, flea market treasures, sweet recipes and everything in between? If you answered yes…come on in and share in the fun features and the party with Junkin Joe! Everyone is welcome…you can even link up your Etsy Shop! We also have a fun announcement to make that we hope all of you join in on!
Don't worry…we still have a feature section today (a little bit smaller)…but we so wanted you to know about this fabulous upcoming event!  Everything will be back to normal next week!
First things first…I wanted our Junkin Joe Family to be the first to know about a FUN Linky Party coming up…we wanted to give you a lot of time to get your creative juices flowing!  The Holiday Season will be here before you know it, and we want all of YOU fabulous craftaholics to join us Nov. 13-15 and share your very best holiday mason jar crafts!  So for one Friday only we will be hosting the Mason Jar Holiday Extravaganza…but I am also going to have a linky for you to drop your Junkin Joe entries too : )  We are just so excited to see what you will bring to the party!
So..without further ado ..
You
are officially invited to the first ever,
Holiday Mason Jar Craft Extravaganza!
Details:
Each lovely Hostess below, will create one amazing holiday mason jar craft that will be featured on the 13th and 14th. Then on Nov. 15th it's your turn to shine with your very best holiday mason jar crafts by linking up them to our multy-blog linky party! This is the time where you could truly go all out, because the following week each Hostess will feature their favorites!!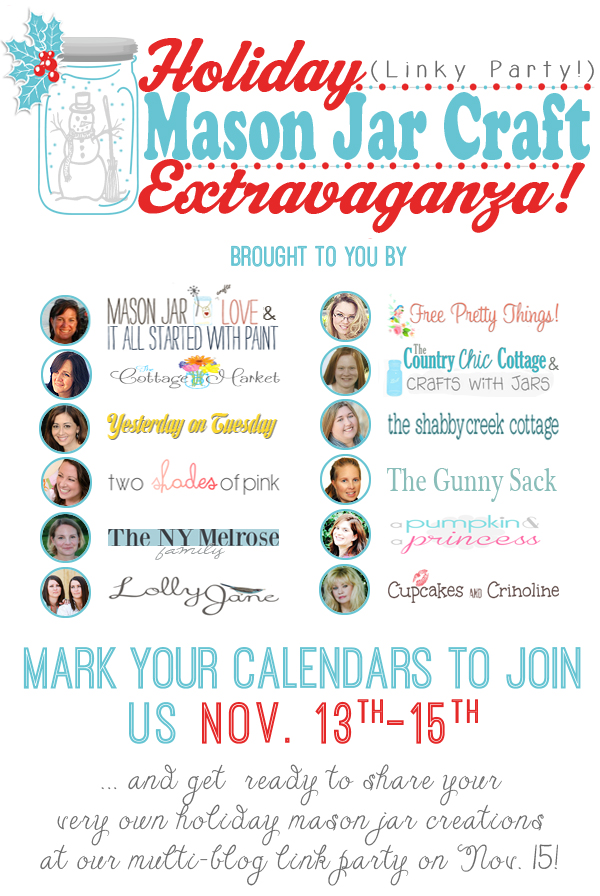 Say hello to your lovely Hostesses!
(in no particular order)
Linda @ Mason Jar Crafts Love & It All Started with Paint, Andrea @ The Cottage Market, Angie @ The Country Chic Cottage & Crafts with Jars, Malia @ Yesterday on Tuesday, Gina @ The Shabby Creek Cottage, Jessica @ Two Shades of Pink, Tonia @ The Gunny Sack, Jenny @ The NY Melrose Family, Crystal @ A punkin and a Princess, Kelli and Kristi @ Lolly Jane, Mary Beth @ Cupcakes and Crinoline and Keren @ Free Pretty Things For You!
We all CAN'T WAIT to see what fabulous-ness you all come up with!
It is NOW time to check out some features from last weeks party!  Today's features are going to be a little shorter than usual because of all the info …please forgive us…we will be back to regular programming next week!
A very warm welcome to Mini's Vintage Charm.  She is sharing this gorgeous French Linen Dresser DIY with us today.  It's beautiful and the colors are simply dreamy and creamy!  Drop by and check out this upcycled…refurbished and perfectly painted piece of vintage furniture.
Check out this beautiful Owen Grain Sack Dresser over at Silver Pennies Today.  Danielle sure did an amazing job and of course shares the step by step DIY with us.  Move over Pottery Barn…you have nothing on Danielle!!! : )
We are so over-joyed to see Anne from Design Dreams by Anne with us today…YAY!!!!  Now you have to check out how she upcycled a 10 dollar pair of shutters…she shares the DIY with us!  WOW they look awesome in her fabulous laundry room…this is a must see!
We have another new family member…Cathy from Vintage, Paint and more and she is sharing a gabulous French Sewing Box upcycle project with us…us!  You are going to love this piece for sure!  Check out the How To!!!
Framed in Chicken Wire & Burlap…what is there not to love about that title!  Altered artworks shares her newest creation with us and I know you are going to enjoy!  She also gives us a complete DIY!!!
Well as many of you know that October is National Shelter Pet Month…Rescue is so amazing and a wonderful cause to support!!!
Our friend Denise…on a Whim did a little roadside rescue this week…only her's was on a chalkboard…it's a must see from start to finish!!!  Another Chalkboard SAVED : )
Where can you see the Eiffel Tower and The Birds and the Bees hanging out together?  Over at Distressed Donna of course!  Come and see how she gave 5 little step stools new life!  She includes her diy's too!!! Step over!
Interior Frugalista joins us today and she is sharing an amazing upcyled furniture creation with us…from old dresser to faux secretary!  A MUST see!!!  You just never know what can be made from an old piece of furniture!  This is a touch of genius!
We have another rescue!  A roadside crate rescue!  Decorated Chaos breathed new life into a discard craft found roadside…look at it now…WOW!
Homeroad has the coolest upcycle DIY for us!  Farm Tool Handle Hooks…how cool is that!  Check out the DIY!
Nicer than New shares a great Pottery Barn Knock-Off with us!  You are going to love this chair…I know I do and it is quick and easy!  Get the DIY!
A touch of shabby…oh so chic for you today from our Queen of Decoupage Martinel!  If you want to have that vintage style beauty added to your life…take a peek!
How about a SPLASH of COLOR!!!!! Shabbygipsy shares her spectacular artwork today on cans…how great does this beauty look…just the right touch to brighten our day!  Now that can has been upcycled don't you think!
How about a quick and easy Ikea hack?  Well That Little Something Xtra shares her Ikea Chair hack and it is adorable!
a Vintage Green shares a great tutorial where she upcycles Canvas Sacks with beautiful Grain Sack Stripes!  Love this!
We have yet another Rescue Rehab with a checkered Past!  Check it out!
Friends…I don't know about where you live…but it is starting to get chilly here in New Jersey!  So when I saw this oh so adorable pom pom-edged blanket by Besa GM …I HAD to share it with you…how cute is this!!!  Yes…she share the complete DIY…including pom poms!!!
How about some Fall Fun!!!
Linda is going BATTY over at It All Started With Paint with this incredibly clever and fabulous pumpkin Project!!!! LOVE IT!
Vintage Chic is celebrating the Halloween Season with some Creepy Candy Corn Candlesticks (say that 10 times fast!!!)
More candy corn goodness from Burlap and Bananas!  How fabulous does this Candy Corn Monogram Door Hanger Look…
How about this upcycled Candy Jar!!! Pretty Cool and oh so easy to do!  Check it out!
Holly over at Damita's Pretty Wrap has the most fabulous and vintagy yummy Fall Typewriter…she is so clever!!!! Don't you just love it and it is decorated with a touch of Fall and Many of her Etsy Shop Goodies!
it is all MR. Jerry approved : ) that means is is PERFECT! : )  How cute is he??? Hugs Mr. Jerry!!!
For some FREE Halloween Printables…stop by The Pin Junkie!!! You will love them.
Now How about a Haunted Halloween Home Tour?  Drop by Restoration Redoux and have a hallowing good time!
Upcycling a simple piece of burlap can make your Holiday Table much more beautiful!  Come and see the DIY for these beautiful napkin rings by Pensieri Romance
Now who wouldn't want these shabby oh so chic sweater pumpkins with vintage BLING on their Holiday table!  Penny from Penny's Treasures always has such fabulous and unique ideas!
Drop by Sweet Peas Chic 'n Shabbies and she will show you how to make so awesome decorations for Fall!
Howling at the Moon is making this great BOOOOOOOOOOOOOOOOOOOOOOO Pillow!!!
Aren't these sweet Pumpkin Candle Holders from Shop Girl Precious!  Drop by for her complete Tutorial and these could be on your table this season!
If you want to wear a touch of the season…Artsy VaVa has just what you need and the DIY to make one of these gorgeous handmade pendants for your very own!
EstiloFiona shares some beautiful Vintage with us…
Are you hungry?  Let's see what is on the Junkin Joe Menu today!
Let's start down at the Jersey Shore at Driftwood Gardens!  Here we are going to experience a LOVELY Ladies Lunch!!! Butternut Squash Soup with Pecans…YUM!
Leave it up to Kirby at Kirb Appeal to share this awesome Hard Cider Cocktail with us…I could go for one now…too early you think…it's 7 am and I have been working on this post since 2 am?  no…you are right…too early…but a good idea for a Friday night…now why doesn't my coffee look as yummy now : ) Thanks Kirby for the morning smile!!! This looks awesome.
Oh and I could soooooo go for a slice of this Red Velvet Roulade!!!!  Sorry Yo Yo's…this one is taking over!  Aimee at Twigg Studios is BRILLIANT!
Cathey with an E shares a fun round up of Pumpkin Treats with us!!!
Now here is one after my own heart!  Simply Suzanne at Home has whipped up a Caramel Pumpkin Drink that may I say looks INCREDIBLE!!!!! YUM YUM YUM!!!!
Cooking with K has some YUMMY FRIED BISCUITS!!!  mmmmmm good! : )
Three Dawg Lady Designs has some yummy pull apart biscuits for us!!! Check these yummies out!
How about some VINTAGE!!!!
Drop by Wetcreek!  It is like being in a museum!  Look at this vintage grey enamelware…dreamy right!  There is so much more there you are going to love!!!!
How about some Retro Pillow Case Love from katies recyle!
Great Flea Market Finds from The Adventures of  Two Pyrex Crazy Thrifting Sisters!
Live. Love. Scrap. found this great vintage cookbook!
Now check out this Vintage Set over at Nell's Vintage House!
 A Little Bit of Everything is sharing her English Pyrex find and so much more!
Decoratopia has a new serving tray and it is FOXY!!!
Thrifty Amos has a fabulous find!!! True Blue and they are gorgeous!  Check out the story!
Andromeda Vintage sure has some cool vintage Holiday Finds!  Check them out!
Jeannie Marie's struck BUTTON HEAVEN!!!!
Looks like Second Time Around Finds has found some treasures and this is only 1…there is so much more!
Ballad of a Vintage Nut sure did scor…check out this table and so much MORE!!!
Tatter and Fray has so many incredible vintage finds this week you would be doing yourself a dis-service not dropping by…they are WOW's!!!
On this Chilly Fall Day…I am leaving you with a Free Printable from Keren over at Free Pretty Things for you.  A sweet vintage Butterfly to remind you that Spring will come soon! Drop by for the download!
Well there you have it my friends…some fabulousness…don't you think!  Now it is once again time to PARTY!!!! Hope you join us again this week with your upcycled projects, vintage finds, vegetarian friendly recipes, sweet recipes, crafting diy's, decorating ideas, home decor, makeovers, refurbished furniture and MORE!!! Can't wait to see what you have in store for us next week!  Once again …a BIG WELCOME to all of our new friends!  Next week we will have a new
Junkin Joe share button for you…so keep a look out!
It's now time to Party
(((((HUGS)))))