Hi everyone…how goes your Wednesday!  
Thought I would give you a fun digital Kitchen Label collection today and sure hope you enjoy it!  You can use them for labeling just about anything (especially yummy treats from your kitchen)…great for tags and the bottom ones sure make fun magnets…Print out a few sheets…cut them out..add some bakers twine and put them in a little gift box…anyone would love that as a sweet token!  Heads up…look for the matching recipe cards sometime next week!
This is a little preview of many new things to come here at 
The
Cottage
Market…
for my regulars…not to worry…there are only going to be additions…no subtractions : )  Still in the process of straightening up the blog and working hard at creating a new navigation bar that I know you are going to love…it will make life a lot easier here for you to snatch up the info and the free printables with a click!  So please stay tuned and you will hear more about what is happening here next week!  Just trying to make it better and more fun for you!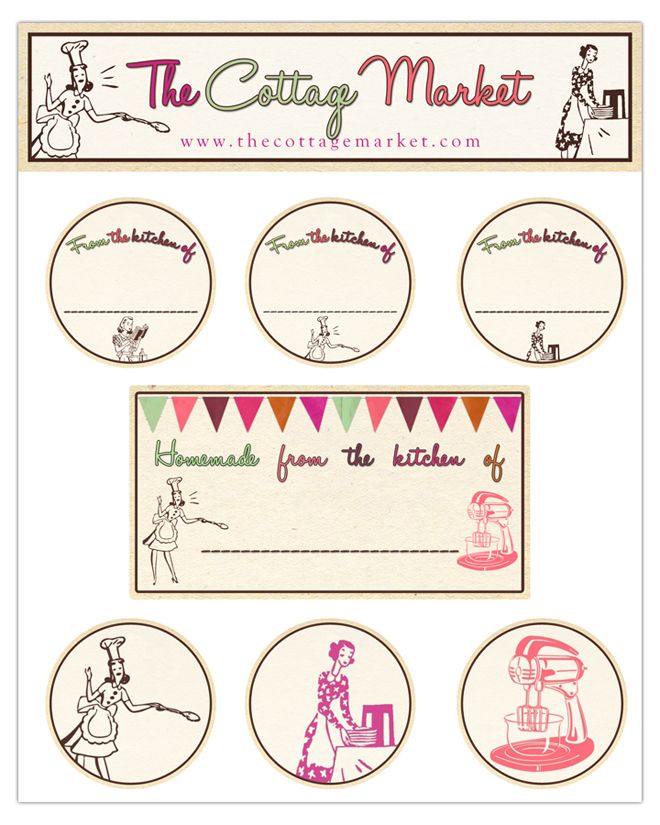 *Image Sheet*
Download



*

Please note: Be Sure to download Original size

*




Once you have click on the links follow these steps:


1. Hover over the image with your cursor
2. A tool bar will appear, the first option to choose is FILE
3. Hover over File and Click Download Original file and your done! 🙂
don't forget to bring your awesome vintage and thrifty finds and all the wonderful upcycled and refurbished creations you have made!
We will be looking for you! : )
Oh yes…please mark your for next week for the big
MISSION POSSIBLE
A
l
l
A
b
o
u
t
C
o
l
o
r
Premier and Linky Party
And if you haven't seen my DIY over at 
The Graphics Fairy
for the
Antique Style Wall Organizer
have a peek!
 and one last thing…don't forget to download this weeks
ooolala!
 get the high quality version from the above link!
Well…that's a lot of info!  Here's wishing you all a FABULOUS and WONDERFUL day!
(((((HUGS)))))